Digging into the historic New Mexico newspaper collection at the New Mexico State Library has once again unearthe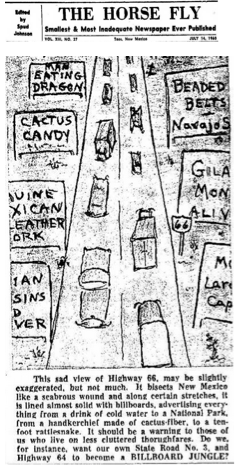 d interesting snippets from our past. Have you heard of the New Mexico Bill Board Vigilantes?
"Throughout the northern part of the state, a clandestine group of
artists, known popularly as the Billboard Vigilantes, periodically conducted nighttime excursions to remove from the highway advertising signs that sullied the landscape (Marc Simmons, New Mexico: A History).
Here are a few snippets from the stories, including a letter to the editor by Marc Simmons and a little Ogden Nash!
Explore more of New Mexico's past through the thousands of rolls of microfilm of New Mexico newspapers dating from the territorial period of the 1850s to the present at the New Mexico State Library. If you aren't in Santa Fe, the
State Library will loan another library up to 3 reels of microfilm per request for 15 days. If you need assistance, librarians at the New Mexico State Library are also available to help answer your research questions. Get in touch with us at Ask a Librarian or at 505-476-9702.
These stories bring to mind the writings of Edward Abbey, a one-time New Mexico resident, and well-known environmentalist. His popular novel The Monkey Wrench Gang follows four characters' efforts to sabotage environmentally damaging activities in the Southwest. Summer is a great time to explore Edward Abbey's non-fiction, fiction, and poetry. We recommend Desert Solitaire: A Season in the Wilderness, The Brave Cowboy: An Old Tale in a New Time and Earth Apples = (Pommes des terre): The Poetry of Edward Abbey. Much has been written about the life of Edward Abbey and his writings. Two new books worth reading and adding to your collection are: The Red Caddy: Into the Unknown with Edward Abbey and Wrenched from the Land: Activists Inspired by Edward Abbey, edited by M.L. Lincoln & Diane Sward Rapaport.
Happy Researching!