Staff for the Northeast Bookmobile of the New Mexico State Library have been as busy as the North Pole staff!  After three years of dedicated and careful work they finished converting all of their catalog and patron records. All of the paper and card records are now online using the Koha software.
For the items in their collection they now have over 23,000 records online (or available as a searchable file when they're offline on the road). They've automated over 3,000 patron records.  Manager Charri Richards and technicians Leroy Chavez and Laura Gonzales were especially well motivated: that light at the end of the tunnel got brighter and brighter. Shining now is a catalog that they can quickly search, finding for their patrons all the possible matches for good books, videos, etc. Automation also improves tracking for all their items, handling requests, and generating statistics.
How did they stay motivated? They all agreed: don't give up; the end is in sight!
All of the newly acquired material is quickly added to Koha as well. The bookmobile staff have been adding records for new stuff all along, at the same time as converting the old records.
Now that they've finished converting Charri is going to retire. That's merely a coincidence 🙂 After an involved stint with the State Library Charri and family plan a long trip, driving this spring up the Rockies to Alaska and back. She'll have lots of time to savor camping and exploring. And lots of time to think of other automation projects!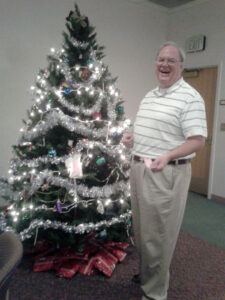 One of their patrons, a young boy, recently rode along for a few stops on the bookmobile. Thrilled with the adventure he declared, "this is more exciting than Christmas!" Congratulations to the bookmobile staff for the exciting success of their automation adventure!
This project is made possible by a grant from the U.S. Institute of Museum and Library Services to the New Mexico Department of Cultural Affairs under the provisions of the Library Services and Technology Act.